Official Skatium Schedule
Find below teams & clubs schedules, special events, public skate, freestyle, open hockey sessions and more! This calendar is updated weekly so check back often.

About the Skatium
The purpose of the Skatium is to be a financially stable municipal recreational facility which will provide the residents of Haverford Township with recreational and learning opportunities in all disciplines of skating as well as enhancing the quality of life by providing them with an affordable opportunity for a unique experience among the community at large.
The Skatium is a public facility owned and operated by Haverford Township. It first opened in 1974 and has provided over 48 years of service to the community!
Skatium is the home rink of :
Crossroads Figure Skating Club | Haverford Hawks Youth Hockey | Haverford Ice Hockey Club | Inter County Scholastic Hockey League (Haverford, O'Hara, St. Joe's Prep, Carroll, Lower Merion, Harriton) | Home Ice Independent Hockey League (Episcopal Academy, Haverford School) | St. Joseph's University Ice Hockey
Hockeytown is your one-stop shop for all your Ice Hockey Equipment needs. The Hockeytown Pro Shop at the Skatium should be your go-to shop for custom apparel orders, offering custom screen printing and embroidery for any team or company event.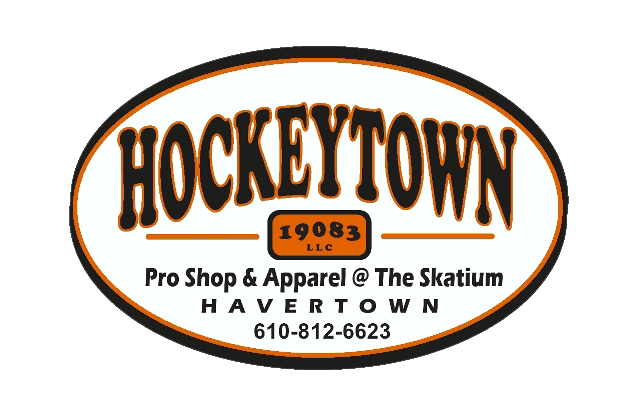 Get Your Skates Sharpened by the Best Around!
Skate Sharpening by FRANK, now available at the Hockeytown Pro Shop before, during and after all hockey games, or by appointment. Call or text Frank at 267-432-4280 to set up an appointment or for the latest hours.

Advertising
Place an advertisement on the dasher boards at the historical Skatium and take this opportunity to market your business in a great way.
Fees:
One Year Ad $400.00
***Includes cost of the sign***
For More Information contact Rick Turnbull at 610-853-3252 or email at rturnbull@havtwp.org

Ice Hockey & Skating Lessons and Clinics Information
The Skatium is pleased to be a part of the Learn to Skate USA Program. Learn to Skate USA is endorsed by USA Hockey, US Figure Skating and US Speed Skating. The program is designed to provide a fun, positive experience that will instill a lifelong love of skating in its participants.
Class dates are not interchangeable without permission of the Skating Director.
Program Benefits
Learn to Skate USA Membership
Frequently Asked Questions:
How Old Do You have to be to Enroll in Skating Lessons? The Skatium offers lessons from ages 3 all the way up to the adult level.
Do You Provide Skates or Helmets? For those enrolled in Group Lessons, the Skatium offers FREE Skate Rental for those who may need them. Our Pro Shop also stocks used and new skates, that are available for purchase to LTS skaters. We do not provide helmets for LTS skaters. Helmets are required for those 6 and under and are strongly recommended for beginners over the age of 6. A bike helmet or hockey helmet is perfectly fine for skaters.
Tips and Suggestions:
Skaters should always arrive 15 minutes before class starts.
Dress in layers so you can remove them as necessary.
Bike or hockey helmets are strongly recommended for beginner skaters. They are required for all those under the age of 6.
Wear gloves not mittens.
Ice skates should fit snuggly; please only wear one pair of thin dry socks.
Equipment or Skate Purchasing:
Hockeytown Pro Shop and Franks Perfect Edges carries all necessary skates and other accessories you may need. Mention that you are an LTS member to receive a discount on Riedell skates!

Public Skate, Freestyle & Open Hockey Rates
The Skatium offers daily Public Skate sessions and multiple Open Hockey & Freestyle times each week. The hours can be viewed at the top of this page or by calling the Skatium Information Line at 610-853-2226.
Listed below are our rates for Public Skate admission and the specials we currently offer
Adult, 7 years and over: $8.00
Children, 6 years and under: $6.00
Senior Citizens: $3.00
Skate Rentals: $2.00



Below are the rates for Open Hockey

$15 per person
Goalies are Free

Below are the rates for Freestyle Skate (effective 07/1/2022)

Walk-On (60 min) $18
Member 10-session $160
Non-member 10-session $170
Basic Skills/Hockey (30 min) $12
Basic Skills/Hockey 10-session ticket $120
Please Note:
Now Accepting Visa and Mastercard.
Skate Helpers
Available for Rent at the Cashiers Booth
Please be aware that we have a limited supply of helpers and they are rented on a first come, first serve basis.
**No Personal Skate Helpers Allowed**
Morning Skate Discounts:
Special rates for Home School Students, Day Care Centers and Schools during our weekday late morning/early afternoon session.
Group Rates
Any organization having ten or more participants is entitled to a Group Discount Rate. Please call 610-853-2226 for more information and to reserve the discounted rate.
Skatium Pass Books:
Book of ten Public Skate admissions are available for purchase (township residents discount available with proof of residency).

Private Rentals/Party Packages
Parties, Group Outings, Hockey, Broom Ball or just to get friends & family together.
Contact Rick Turnbull (phone: 610-853-3252 or email: rturnbull@havtwp.org) for private ice time and cost details.
Bring your class for a fun skating outing at the Skatium during our 10 a.m. to noon weekday session
Special rate with lunch available
**Skating instruction is available for all group outings**
Meeting Rooms
Available to rent for business or organizations events
For Birthday Party information, please contact:
Have-A-Burger | 610-853-4637 | email: freshburgers@haveaburger.com

What Is Stick-N-Puck
These are scheduled one hour times to get on the ice together and enjoy an open-ice setting with full equipment. It is also a great way to share the sport you love with your child. Our hockey rink is a great place to practice ice shooting, passing, and ice skating moves together.
Stick-N-Puck Rates
One (1) Hour Ice Slot: $15.00 person
**NOTE: $15.00 per person beginning 9/1/2023
Goalies are free (up to 4 goalies per session)
Equipment Required
Skates, Hockey Pants, Shin Guards, Elbow Pads, Shoulder Pads, Hockey helmet with cage, Gloves, and Stick required for all participants under 18.

Adults (18 and over): Skates, Helmet, Gloves and Stick (Full gear recommended)
Stick-N-Puck On-Ice Rules
Participants under 18 must be accompanied by an adult family member.

While all ages are welcome, 14 & under are to utilize the home side ice only

No scrimmages/games
No organized practices/private lessons unless provided by Skatium Staff
No slap shots during Stick-N-Puck time slots
Under 18 years old must be in full gear.
Sign Up Here
(see Skatium schedule above for times)